To be the leader and preferred provider to our valued customers; by delivering superior products and services through a highly empowered and qualified team, who are committed to customer service excellence.
Talk to a specialist in our office about your irrigation concerns today.
Offering Manitoba Concrete Splash Pads & More !
Ful-Flo Industries Ltd. was first incorporated in 1976. Providing irrigation and concrete splash pads for Manitoba and NW Ontario, Ful-Flo Industries is located on the outskirts of Winnipeg on the north Perimeter Highway just a ½ mile west of Highway #7.
Ful-Flo Industries Ltd. warehouses a variety of parts to service the irrigation demands found in the agriculture, golf, commercial and residential market areas. As Ful-Flo continues to expand its inventories to service these areas better, it has also diversified operations to include pump stations, municipal water treatment plants and water spray park installations to name just a few. Ful-Flo Industries is also a major supplier and installer of aeration fountain units found in the golf course and commercial marketplace.
Being a master distributor for multiple product lines in Manitoba and NW Ontario, Ful-Flo Industries is a leader when it comes to delivering customers professional grade irrigation components and concrete splash pads, but that is just half the story.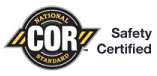 By acquiring industry specific equipment, Ful-Flo Industries has positioned itself as one of the area's largest and most capable irrigation contractors in Western Canada and has demonstrated a commitment to safety by becoming a COR member.
Ful-Flo is highly respected and has a reputation as the premier installer of fountains and concrete splash pads in Manitoba. We have strategic alliances with a number of suppliers in both of these industries. Our expertise combined with a relentless commitment to customer service sets us apart from our competition.